08-12-2006, 02:24
"Bird of the week"
Thanks Mike,

Excellent job.

David,
'02 LXi, Smokey
Va

12-10-2008, 06:14
"Bird of the week"
Hey John, great looking bus with an equally innovative kooky name. Its great to see what people who own bluebirds name their rigs. Tommy 2-shoes and his wife Carolyn have a quirky loveable name "A Pretty Penny". I must say we certainly have a group of Bluebird owners with a creative way with words .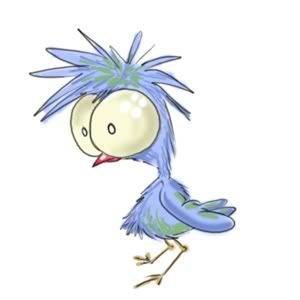 Timmy V 94pt Bluebirds Rock!

12-10-2008, 13:58
John McGinnis


Unregistered

"Bird of the week"
I had the desire for a bird in my head for over 15 years, I looked a
dozens. It was an obcession. The first bird I ever saw was on a
roadtrip out to Area 51 for the USAF back in 1979; I thought someone
had converted an old school bus. Not until Al Gore invented the
internet did I realize that was a factory built motorcoach and not a
homebuilt. I never could afford what I wanted and the wife put her
foot down and said we weren't borrowing or buying until we could write
a check. Well I finally was able to write the check in August 07. She
came up with the name. We love it and look forward for more time on
the road. For now she is tucked away underground, no more winterizing
for me. I like that year-round 58 degrees.
John 88FC35 "Bird Brains" Louisville, KY

12-10-2008, 16:33
"Bird of the week"
John what a great story behind your Bird. I never thought we'd own
a Bird. I can remember going to a Rose Bowl Game when I was a kid at
12 or 14 ; I think Washington was playing Michigan or OSU one of
those teams. Anyway, I was in awe of the Washington tailgaters who
owned these Prevosts and Wanderlodges and it seemed like all the
State of Washington owned these Palaces on wheels. I could remember
the smell of their diesel generators and engines that permeated
around the Rose Bowl and I thought I was in heaven. It was a dream
of mine to roll into the Rose Bowl tailgate section with a
Bluebird; well that year was 2007 & 2008 when that dream came true.
It may have took 32 yrs to do it but it was well worth the wait.
Our Bird was the envy of the Park as our 8v92 rumbled down the blvd
w/its horn playing the USC fight song. It was a great moment and
thats my Bluebird story.
Timmy V 94pt
--- In
WanderlodgeForum@yahoogroups.com
, "John McGinnis"
wrote:
>
> I had the desire for a bird in my head for over 15 years, I looked
a
> dozens. It was an obcession. The first bird I ever saw was on a
> roadtrip out to Area 51 for the USAF back in 1979; I thought
someone
> had converted an old school bus. Not until Al Gore invented the
> internet did I realize that was a factory built motorcoach and not
a
> homebuilt. I never could afford what I wanted and the wife put
her
> foot down and said we weren't borrowing or buying until we could
write
> a check. Well I finally was able to write the check in August 07.
She
> came up with the name. We love it and look forward for more time
on
> the road. For now she is tucked away underground, no more
winterizing
> for me. I like that year-round 58 degrees.
> John 88FC35 "Bird Brains" Louisville, KY
>


User(s) browsing this thread: 1 Guest(s)